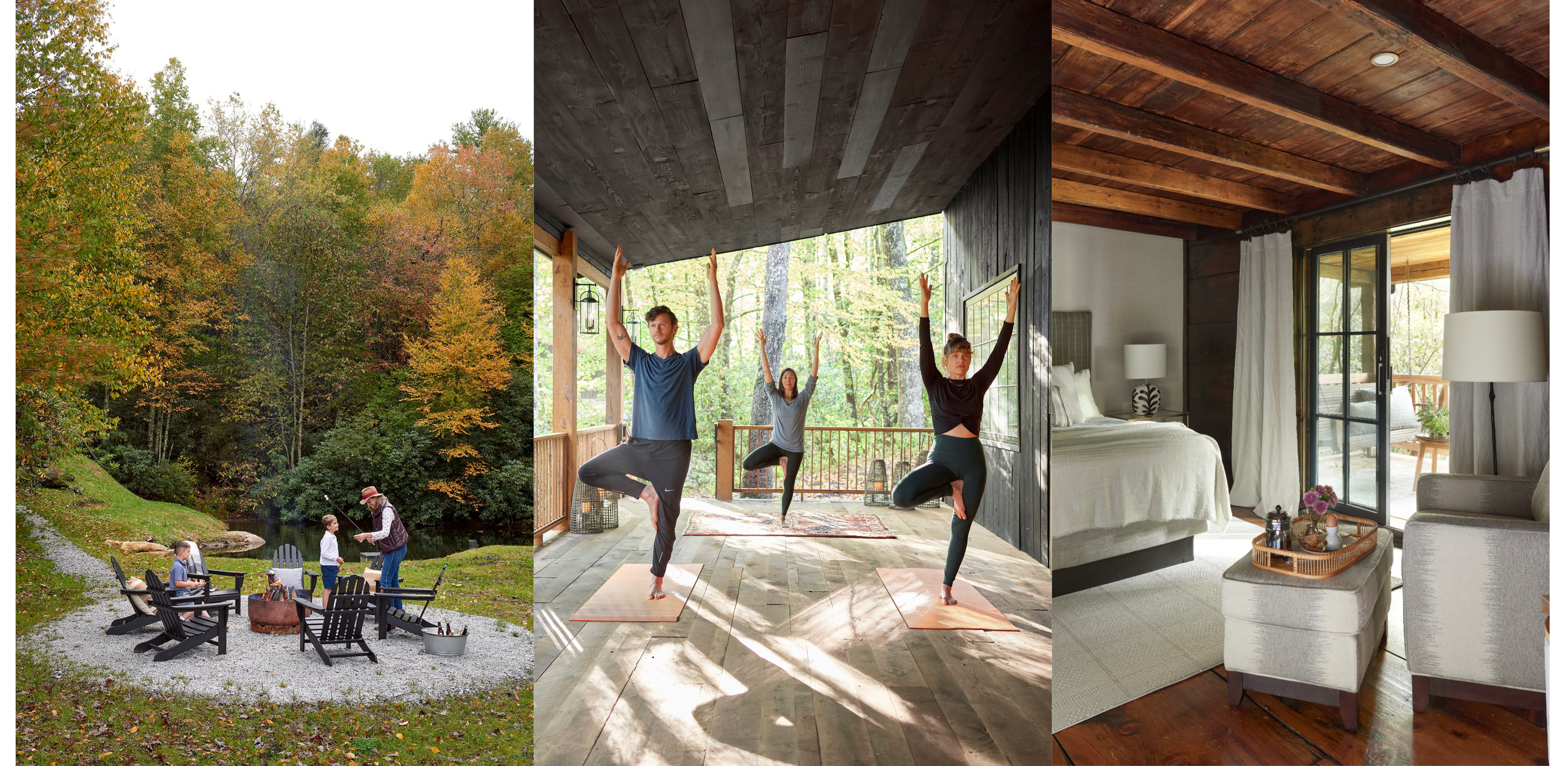 Christopher and Margaret Shutze, the husband-and-wife duo of Shutze Studio who were recently featured in Southern Living Magazine, have spent their careers creating award-winning bespoke furniture and interiors for clients around the world. They also ran a side business, hosting the occasional wedding on the three acres they owned in Boulder, Colorado. But they had a vision for something both bigger and more personal.
A luxury haven with character and history, perfect for weddings, events, or retreats. What they didn't have was a place to build it.
"We did six weddings a year, but we also had our full-time day jobs," said Margaret. "Chris was making furniture, and we were also having Airbnb guests and then having these events. Add in our two little kids, and it was all a bit too much."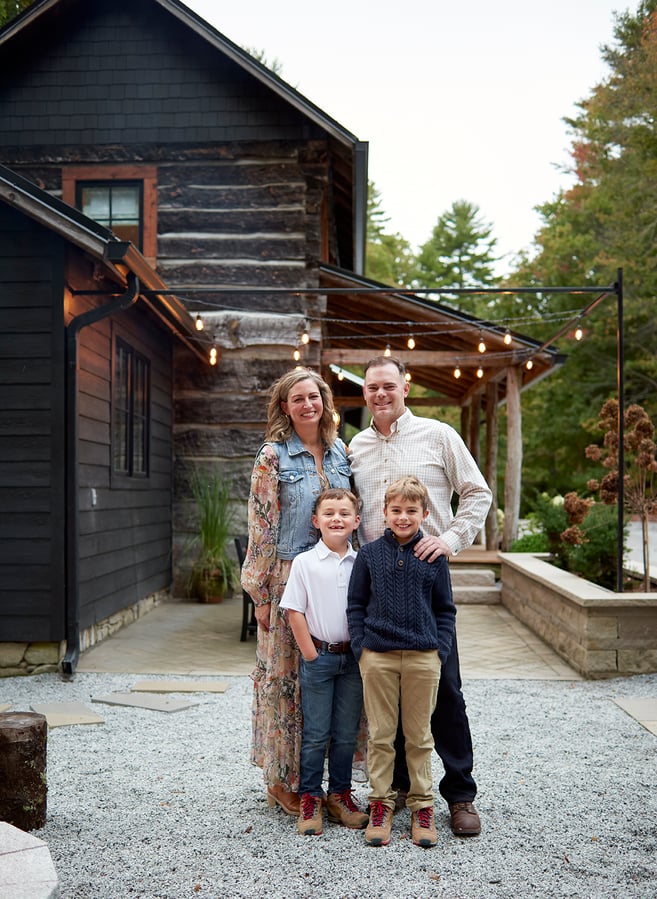 Photo: ©Brian Woodcock
So, they decided to sell that property and set off around the country looking for their dream location: Dozens of acres with charming cabins nestled in the woods, where they could focus on hosting and events. After many Google searches and flying around and driving all over the U.S. in search of the right spot, they landed at a property in Highlands, North Carolina.
"We came in the entrance, and I started tearing up. I was like, 'Oh my gosh. Why am I crying? What's happening?'," Margaret said. "I could feel the spirit in this place. They had a woodshop, a barn, and cabins, it had every single thing that we had put on our list. That night, even before we walked into the house, I knew it was the right one."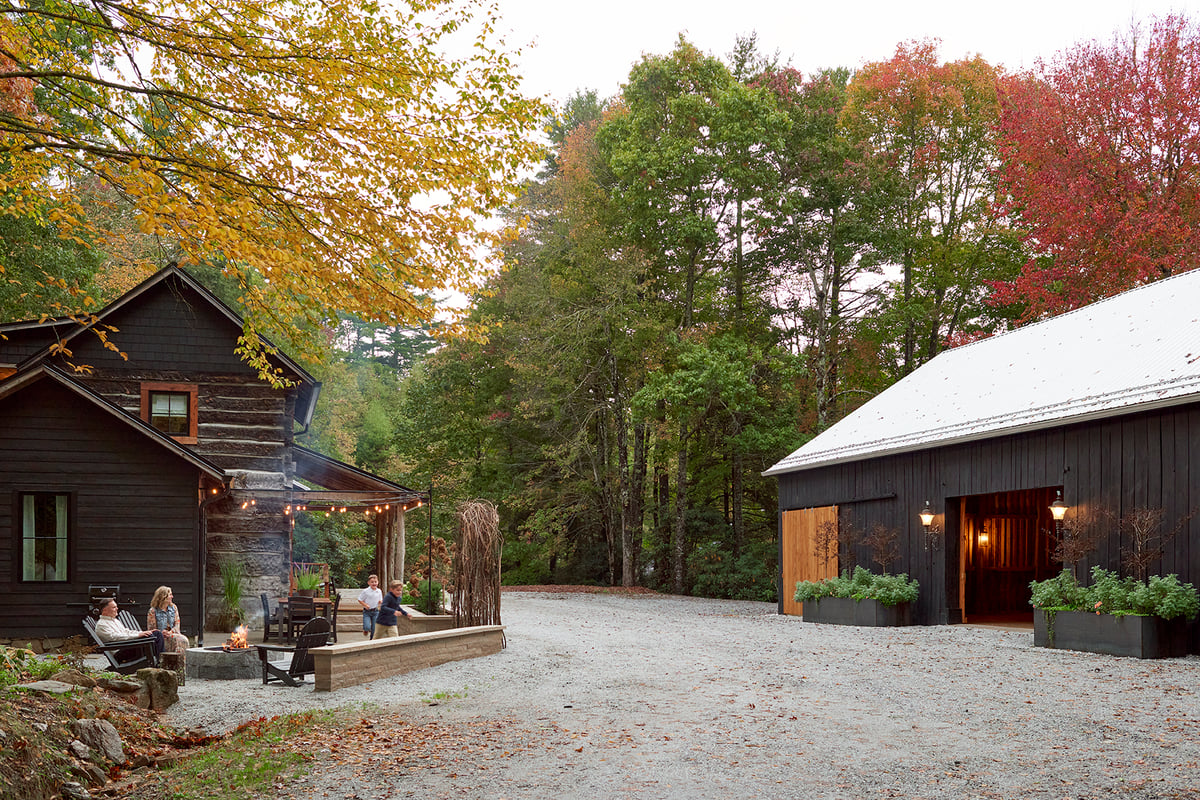 Photo: ©Brian Woodcock
The 28-acre retreat had been turned into a rustic paradise by an eighth-generation Highlander over the last 40 years—but it had seen better days. But Chris and Margaret could look past that and see its future—Flat Mountain Farm. After the Shutze family moved to the property in December 2019 they began the hard work of renovations.
But first, Margaret began the even harder work of designing the interior spaces for all the buildings: their personal house, the antique Amish barn and the two main rental cabins, the Kingfisher and the Wren. (A brand-new 2021 Airstream called the Chickadee, is being brought in to replace a tear-down cabin.) All told, the renovated haven will house up to 16 guests and host up to 200 guests for events.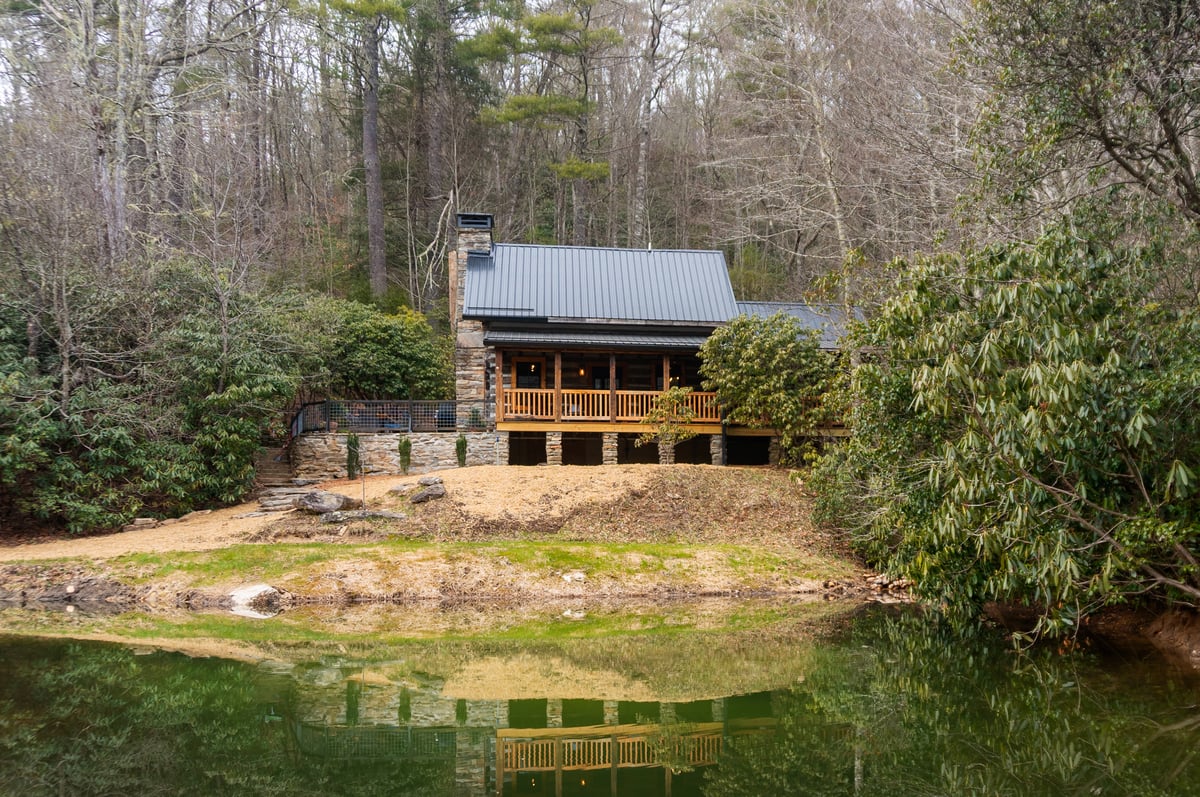 The Kingfisher cabin at Flat Mountain Farm. Photo: ©Phil Curcuru
"As far as the interior surfaces go, I knew that I wanted soapstone in the kitchens in our house and the Kingfisher," said Margaret. "And I knew I wanted white marble that would complement this really cool five-foot vintage cast iron sink in the kitchen in the Wren. And I knew I wanted a lightweight product in the upstairs bathrooms. And I was able to bring it all to life."
The Shutzes knew they wanted to use local products as much as possible, which is how they discovered Polycor. "I was researching where the quarries are and then I realized one was only two hours away in Tate, Georgia," said Margaret. "It was really exciting to find Polycor."
In operation since 1886, the Georgia Marble quarry is located in the hills of north Georgia, only a short distance from Flat Mountain Farm.
First up in the renovation process was the Kingfisher, an antique log cabin nestled into the woods with its own pond and a stream running alongside it. It's a turn-of-the-century cabin that the previous owner had moved and reconstructed from Burlington, NC. And it was the first building they saw when they came to look at the property—and they were immediately blown away by the cabin's 28" wide floor planks—which they kept. Margaret leaned heavily on her background in boutique hospitality design to make her vision of a "Ralph Lauren meets log cabin" style for the space come to life.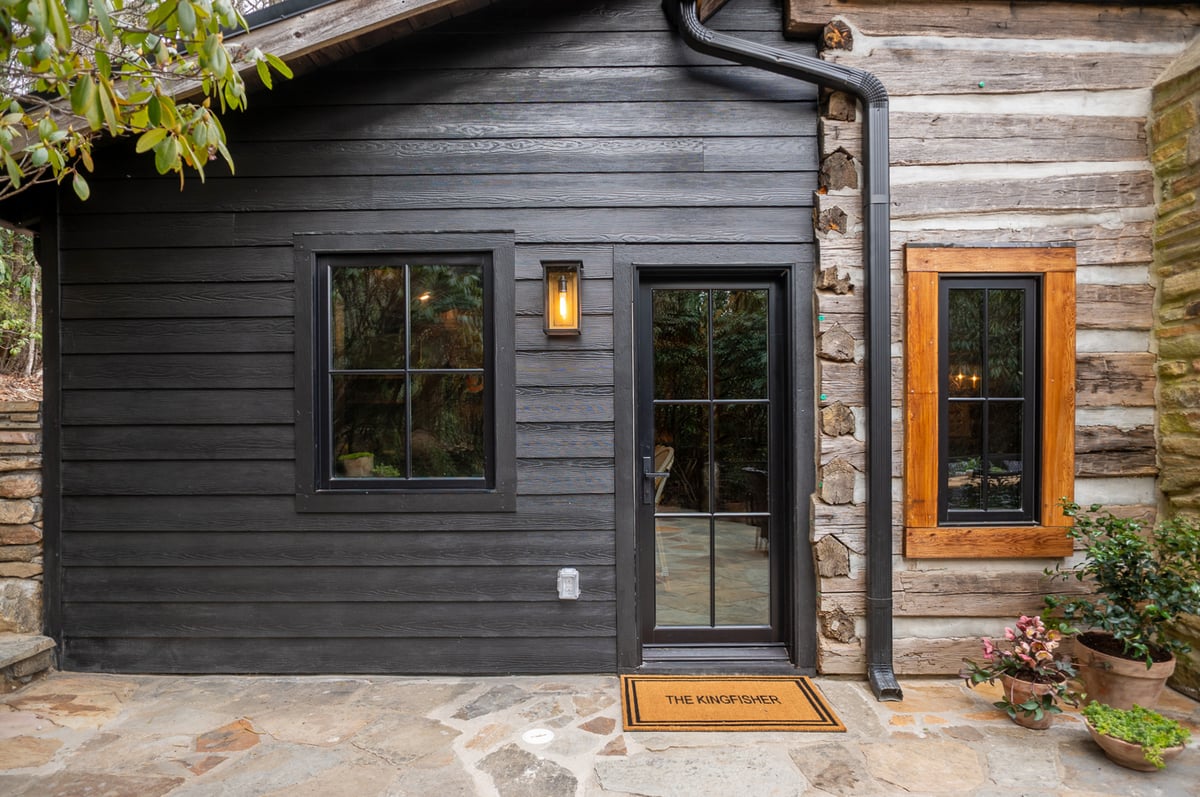 Photo: ©Phil Curcuru
"I wanted to enhance and freshen up the aesthetic of the Kingfisher cabin in general," said Margaret. "It's an 1800's log cabin and I wanted to embrace the rustic elements but not whitewash everything. It seems like everything is white right now, and I used it very sparingly here, because although I wanted it to feel fresh, I also wanted it to really feel like a mountain cabin."
The 3-bedroom cabin features the same mattresses used by Four Seasons Hotels & Resorts with Italian linens by Casa Rovea. The chef's kitchen has appliances by Monogram with a Five Star professional 36" gas range and Alberene Soapstone™ kitchen countertops and island from Polycor's Schuyler, Virginia quarry.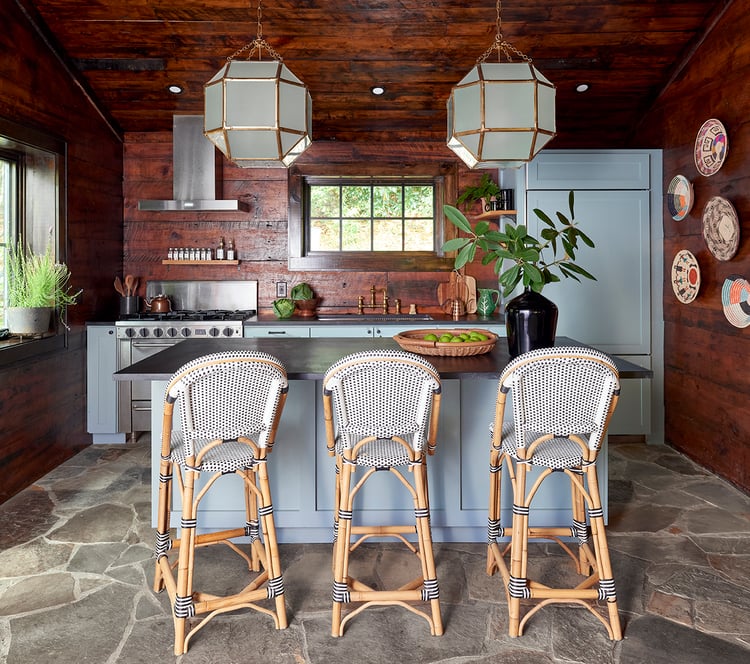 Alberene Soapstone™ kitchen countertops add to the warm, rich character of the Kingfisher. Photo: ©Brian Woodcock
"Soapstone is such an amazing material to use in kitchens, it's a classic stone," said Margaret. "I love that it's a living product that patinas over time. It's durable and non-porous, so I felt like it would be a very good choice for a guest cabin."
"Plus, the green to gray colors of the Alberene Soapstone™ are so gorgeous, and I'm in love with the veining."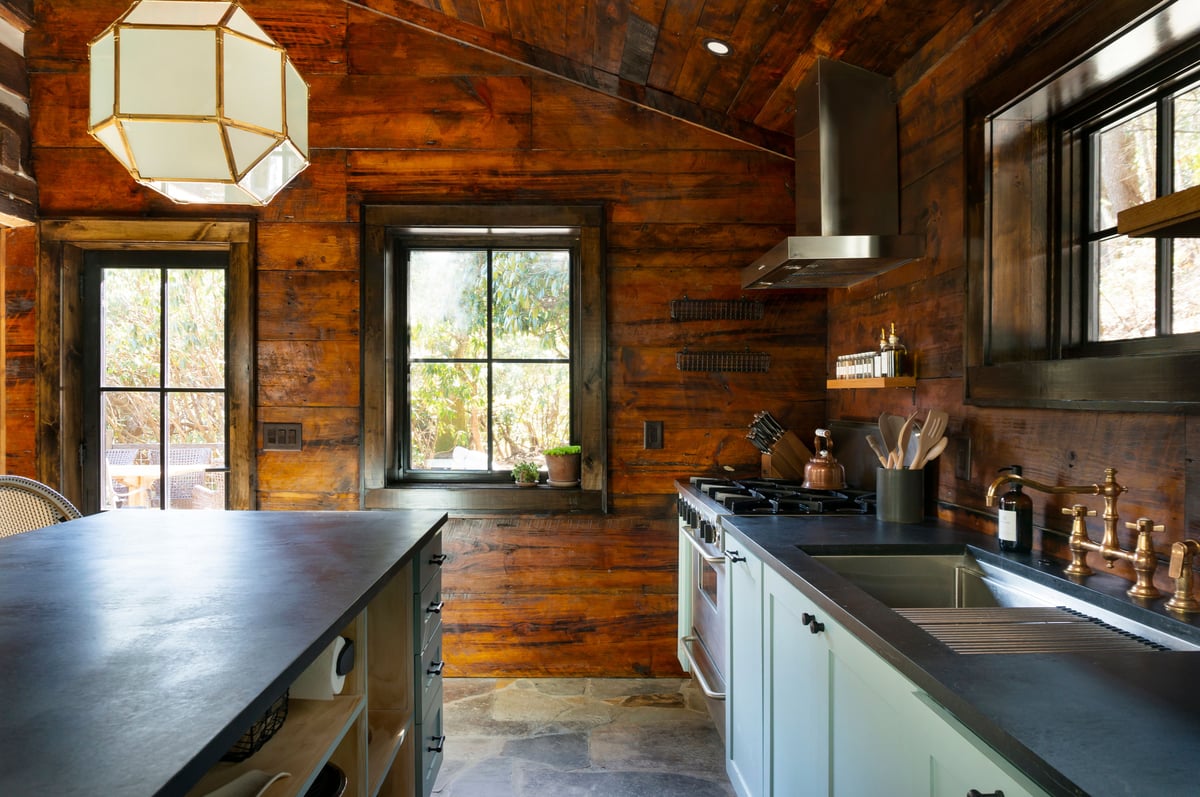 Photo: ©Phil Curcuru
Renovating the cabins was a big undertaking. Not only were the buildings suffering from neglect, but Highlands is in one of two rainforests in the United States. Restoring the buildings, addressing leaks, adding waterproofing and bringing them up to luxury retreat standards—while keeping their authenticity—was a big part of the project.
Margaret focused on showcasing different stones in new ways throughout the cabins. The same soapstone that is in The Kingfisher cabin is also in their family home, the SAINT CLAIR™ marble from Polycor's Oklahoma quarry featured in the Kingfisher bathrooms is also in the bathroom of the Wren. She used GEORGIA MARBLE™—WHITE CHEROKEE for the kitchen and bathroom countertops, as well as 1 cm ultra-thin slabs as shower walls. In both of the ground-level Kingfisher bathrooms, she used LENS™ French limestone and Saint Clair marble tiles. "I had a vision for a checkerboard floor in the bathrooms," said Margaret. So she styled the two stones in a classic checkerboard pattern on the floor.
Checkerboard floors using Saint Clair™ marble and Lens™ French limestone are paired with 1cm Ultra-Thin Georgia Marble™ - White Cherokee slab shower walls. ©Phil Curcuru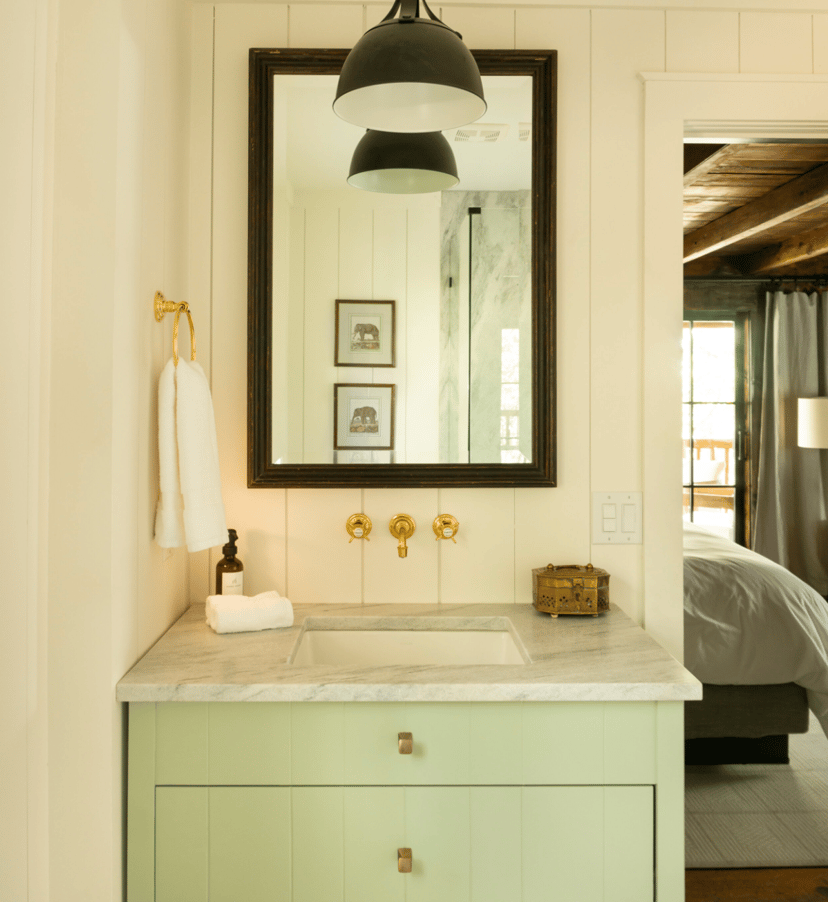 Georgia Marble™ - White Cherokee vanity. Photo: ©Phil Curcuru
"I was obsessed with this idea of a gray and cream checkerboard floor," said Margaret. "It's a more modern interpretation of that classic pattern. The bathrooms are very different, but it works so well in both."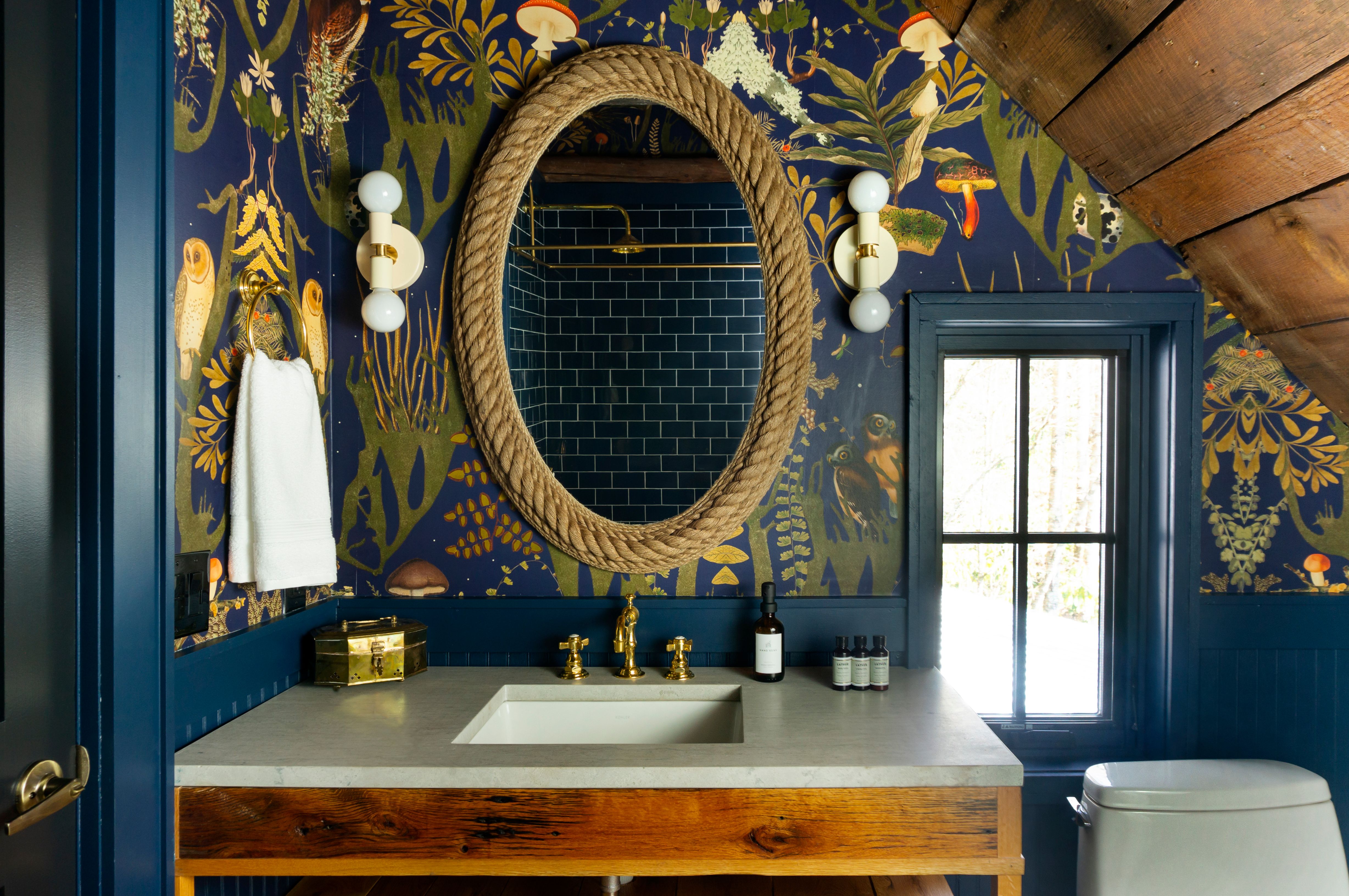 Bold color and patterns are balanced by the neutral Saint Clair™ marble vanity top. Photo: ©Phil Curcuru
Where the Kingfisher is moody and rich, the Wren is casual and crisp. (Think of it as the J Crew to the Kingfisher's Ralph Lauren.) This cabin was originally an office with a leaky roof and a little kitchenette. Today it's a two-bedroom, two-bathroom, two-living area cabin with vaulted ceilings, fresh white walls and a new black metal roof.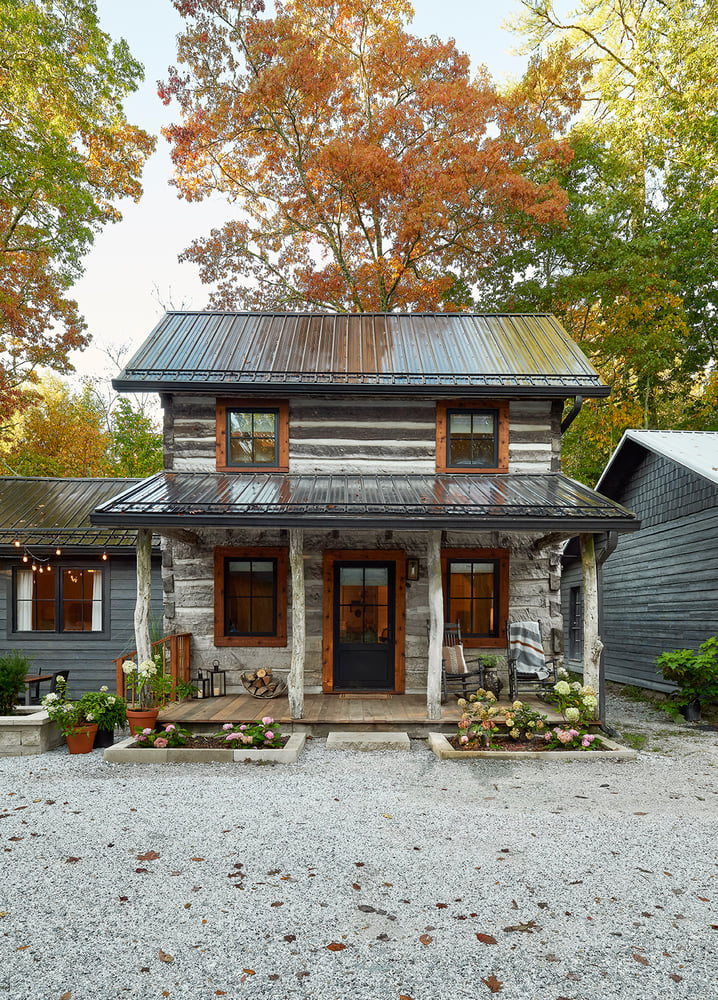 The Wren at Flat Mountain Farm, Highlands, N.C. ©Brian Woodcock
The bright and airy kitchenette has a full chef's kitchen with appliances by Monogram and iLVE Italian gas range. The powder blue painted cabinets are topped with Georgia Marble™ - White Cherokee countertops and a five-foot vintage cast iron sink, set against white shiplap walls.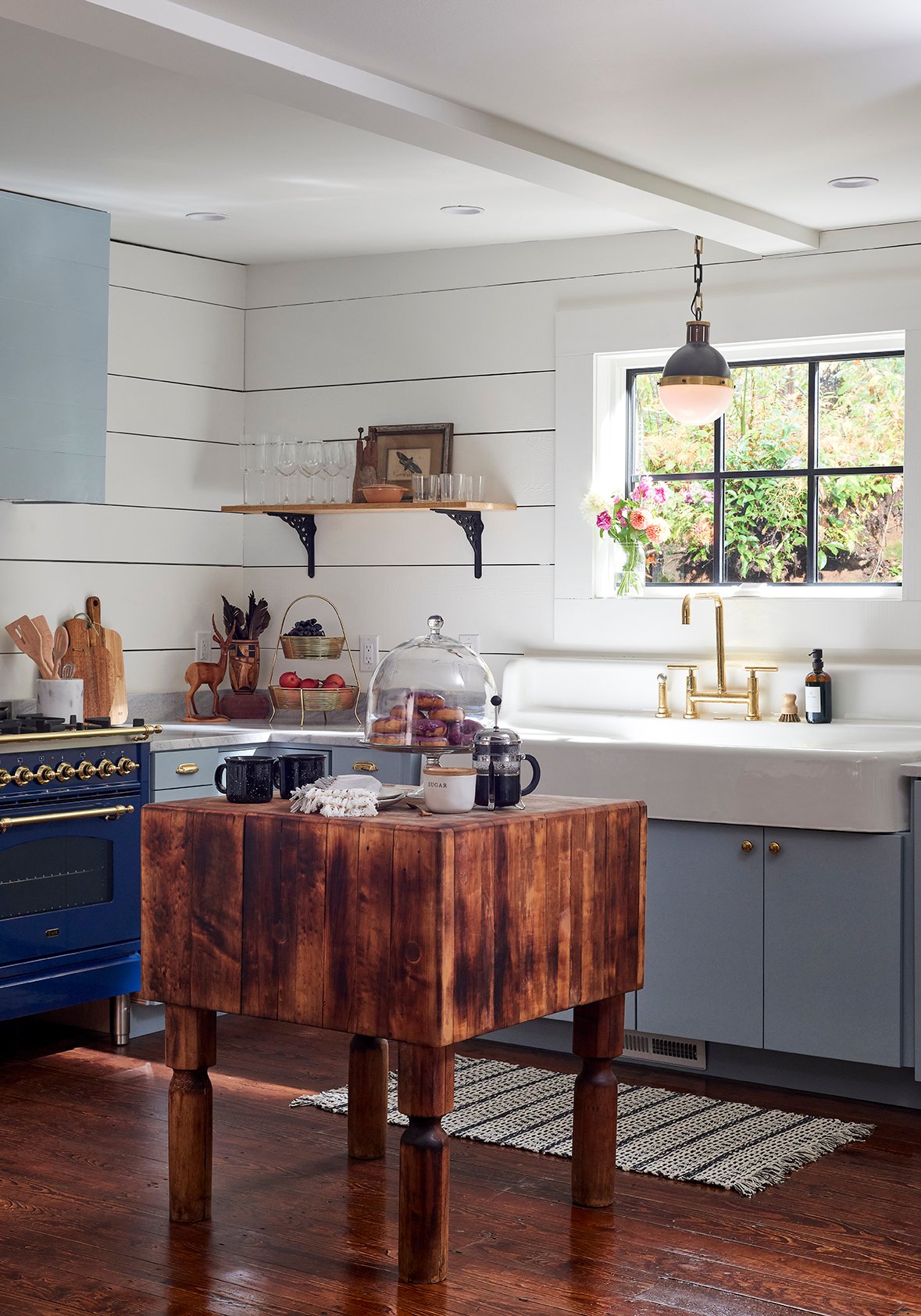 Georgia Marble™ - White Cherokee countertops in the Wren cabin at Flat Mountain Farm. Photo: ©Brian Woodcock
"My experience has always been in luxury hospitality, and I know people appreciate experiencing these really high-end, high-quality materials," said Margaret. "That's one of the reasons I was so excited to discover Polycor."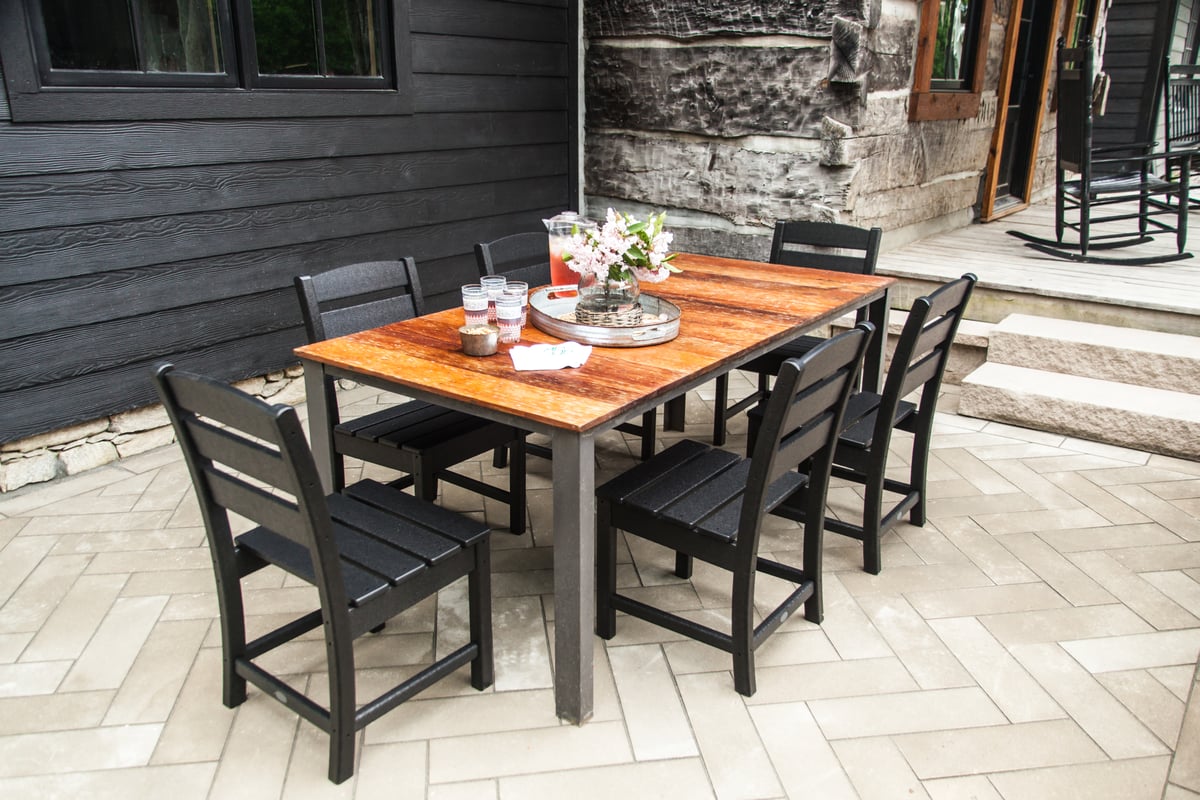 Indiana Limestone - Full Color Blend™pavers and landscape steps create an inviting outdoor living space at the Wren.
The Wren received special treatment for the outdoor living spaces as well where other Polycor stones were used for the patio and front entry. A herringbone pattern paver dining area was built, along with a raised garden bed and walls using INDIANA LIMESTONE - FULL COLOR BLEND™.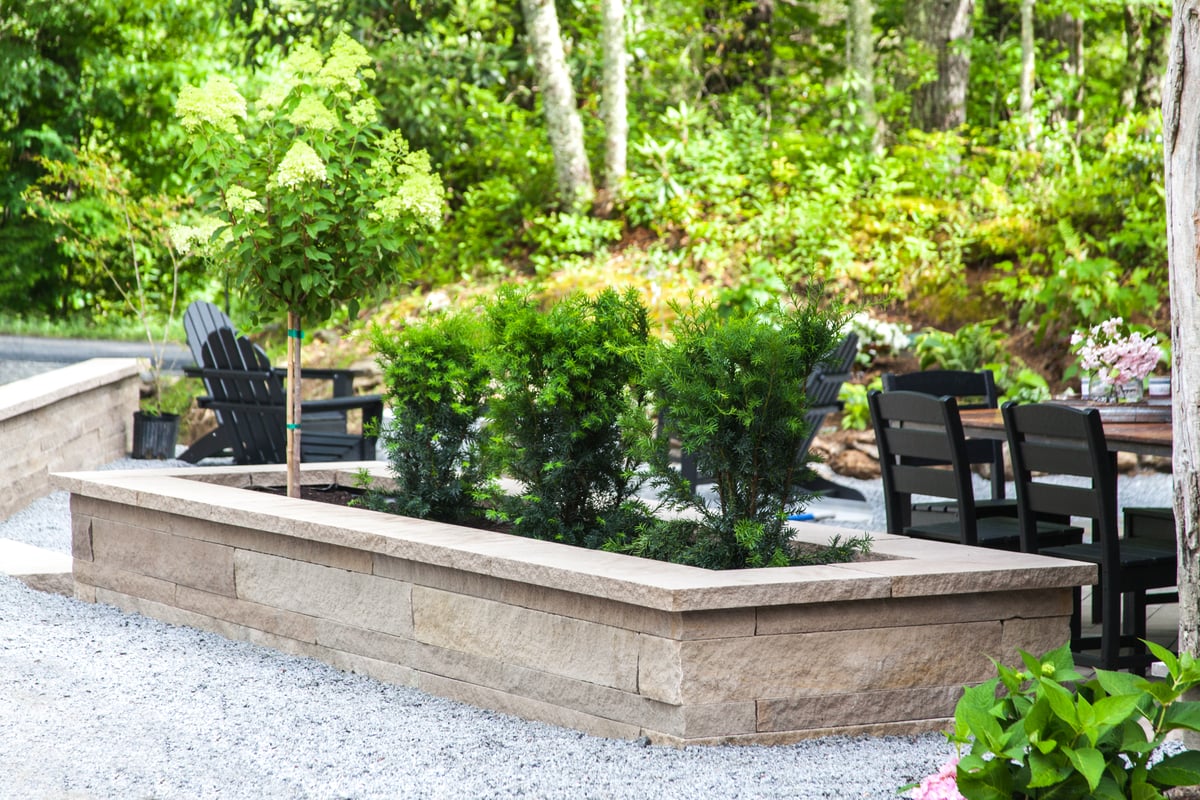 A round granite firepit cut from blocks of EASTERN GRAY™ granite quarried in New England and limestone landscape steps lead out to a quiet gathering space perfect for roasting s'mores with friends and family.
SEE ALL THE OUTDOOR LIVING SPACES HERE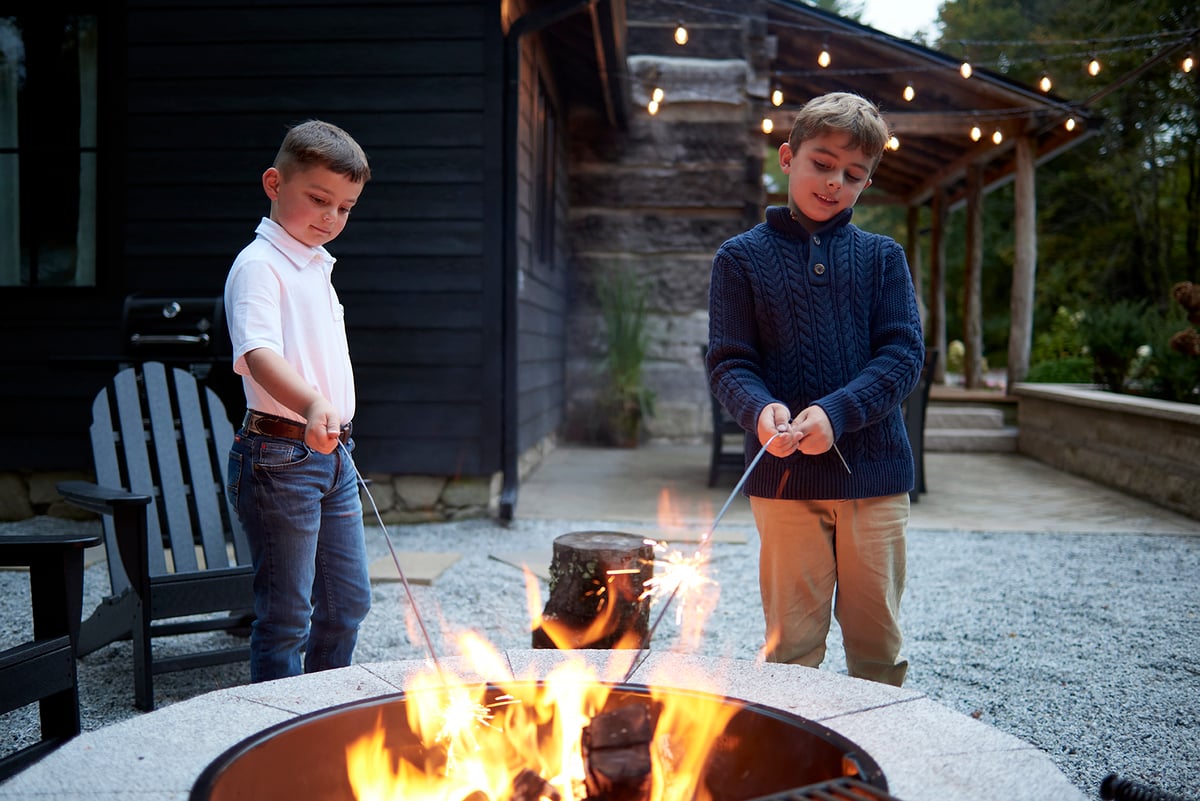 Photo: ©Brian Woodcock
Whether it is indoors or outdoors, for floors, walls or countertops, Polycor North American quarried stones cover every application in construction and renovation projects - both residential and commercial. And if you're looking for a destination getaway to connect with nature (and natural stone) then Flat Mountain Farm should be on your bucket list.
Interested in seeing Polycor North American stone in person? Find a dealer / distributor near you to learn more.