One of the challenges of hardscape design is choosing materials that not only look good but are going to stand up to weather extremes, like Chicago summers and Massachusetts winters (or vice versa).
We spoke with two contractors in those two very different parts of the country who both have to design hardscape projects using materials that can withstand extreme temperature changes.
For John Algozzini, design director for K&D Landscape Management in the southwest Chicago suburbs, you can't go wrong with Indiana Limestone because "it's forever." Often referred to as "America's building block," the stone's naturally occurring high density guarantees that it will stand up over time. "It's a product that lasts for multiple generations," he said.
Algozzino, who's been in the business for over 40 years, says that working with natural stone also helps limit homeowners' carbon footprints. "Sustainability is a term people throw around pretty loosely these days, but when you install a limestone product, you should anticipate its life expectancy is multigenerational."
Massachusetts-based landscape designer Tom Kraus, owner of Natural Path Landscaping in Foxborough, said many of his clients like that the WOODBURY GRAY™ granite he often incorporates into his hardscape designs is quarried in nearby Vermont.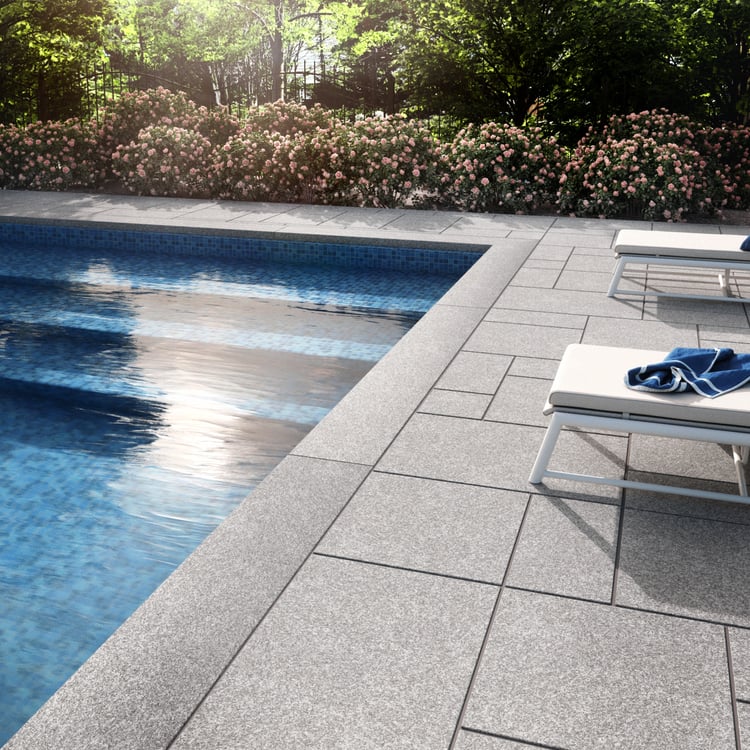 WOODBURY GRAY™ granite pavers
"People like the fact that it's a local product," he said, adding that while some granite imported from China might be less expensive, the stone is often produced in plants that lack any worker safety or pollution regulations. To keep shipping costs down, the imported pavers are thinner and inferior to American sourced granites and Kraus said he's heard of a shipment of granite lamp posts arriving from China that didn't have holes drilled to accommodate wiring. "It's just not worth it," Kraus said.
And then there's Indiana Limestone classic appearance in the landscape setting. "Natural stone, especially Indiana Limestone and granite, have a character that modular cast concrete products just don't have," says Algozzino, adding that the organic weathering of natural stone only enhances its natural beauty.
Algozzini points out that by its very nature, natural stone has been in the freeze-thaw cycle for millions of years, so when installed correctly there are "zero issues" with its ability to handle extreme temps.
"Heck, here in Chicago we can be at 20 below zero or an extreme 105 in the summertime and I've never seen it make a difference in the performance of the product," Algozzini said.
INDIANA LIMESTONE - FULL COLOR BLEND™ pavers
Both contractors agree that the key to helping Indiana Limestone stand up to harsh temperature extremes is installing pavers on top of a permeable base, which prevents moisture from sitting on the stone.
For Indiana Limestone patio slabs, Algozzini uses a free drain gravel for the base and bedding course to keep the moisture away from the stone to prevent freeze-thaw movement and ensure longevity.
Kraus uses a polymer-based product that looks and acts like mortar when installing granite steps that lets water "percolate" through the crushed stone and leak out the bottom into the concrete pad underneath. "It doesn't hold water because if it did, then that's when you get freezing in the winter that's so powerful it can actually move steps."
"I tell customers worried about salt melt that granite is immune to everything," he says. "That's why it's used for curbing—it stands up to getting hit by salt trucks in the winter."
Kraus also prefers installing granite to concrete pavers and slabs because it's a cleaner process that creates less dust and slurry using a diamond saw. "The slurry that comes up when cutting most concrete is just awful and terrible if it gets on your skin," he said. And if left to dry out in the sun, the concrete slurry quickly hardens on pavers and is hard to get off, Kraus added.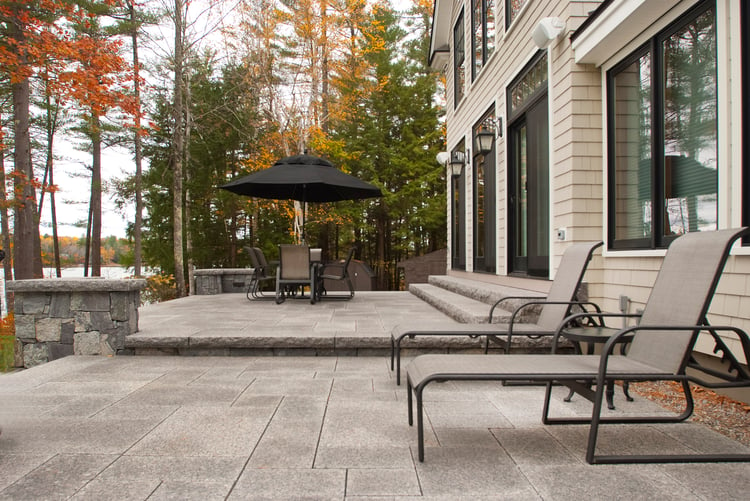 CALEDONIA ™ granite steps and pavers. Project by Elwell's Masonry
Kraus uses granite pavers for landings to match granite steps because they're "just beautiful and never fail."
"I just think it's a superior product," he said.
Azzolini agreed: "The beauty of natural stone in a landscape environment has no peer. It brings an everlasting, classic and timeless beauty to any project and stands up to all weather conditions."
Give any outdoor space a durable and classic update with granite or Indiana Limestone. Order a sample today.