When architect Phil Kean met with the McKinney family about their 11,000 square foot riverfront home project, he took in the typical requests. Give us something modern, but not that ultra-modern-flat-roof-box look. Capture the best views of the Tennessee river where the property sits. Stick to a consistent, neutral palette.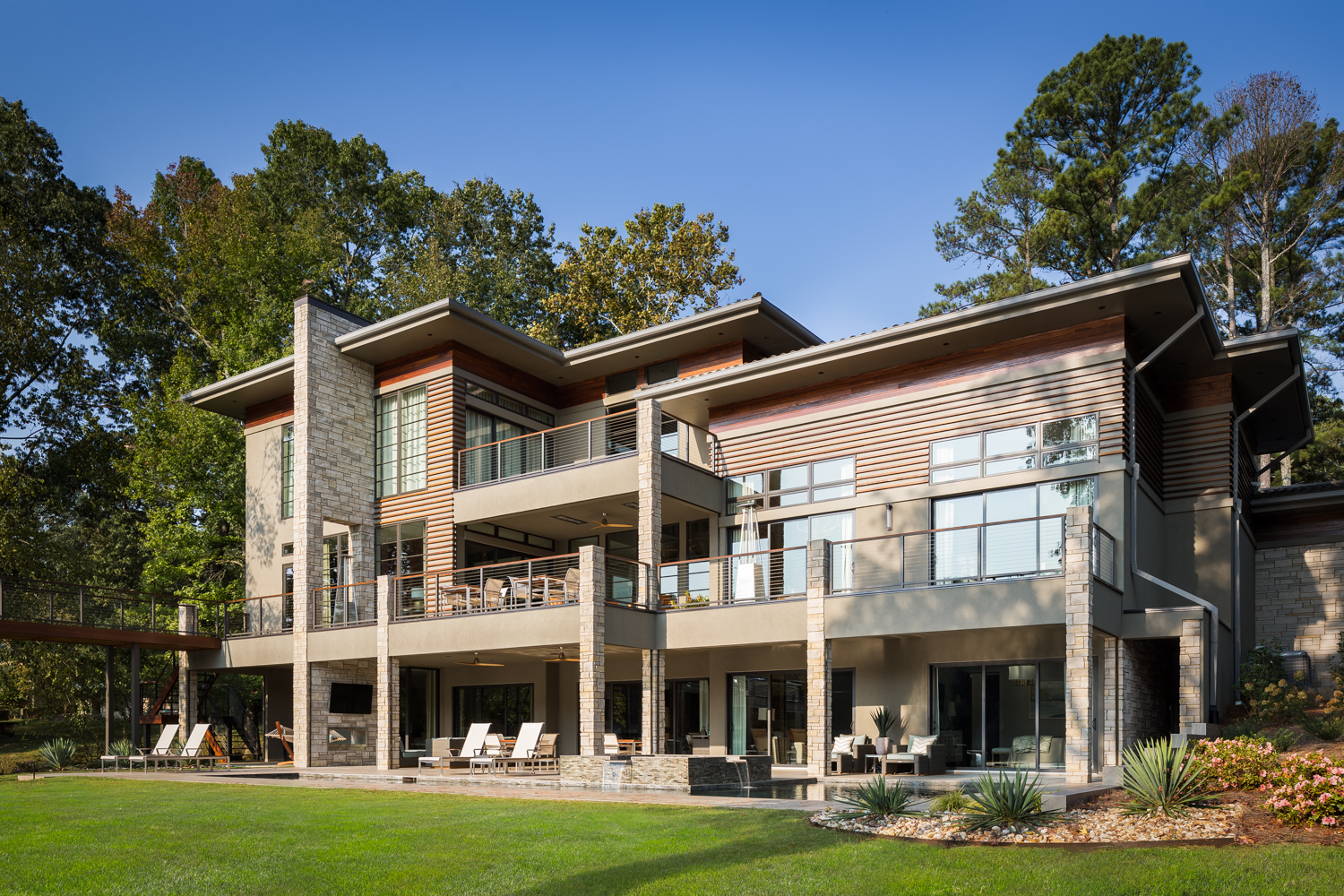 The exterior decks of this riverfront home enjoy sun-drenched days and uninterrupted views.
And then there was the material constraint. The design had to incorporate exotic wood. Lots of it. All the other materials were to reflect and support the tones and textures of the homeowners' selection of woods for cladding, decking and railings.
Tropical hardwoods and Indiana limestone are accented with steel and cable railings for a look that's modern without being cold.
That's because this family's business is McVantage of Guyana, importers of tropical hardwoods from South America, including species like Purpleheart, Morabukea and Bulletwood.
Prior to this home, the McKinney's only visited the river on weekends. Tearing down the existing structure would be the most cost effective way to get this family living the riverfront lifestyle year round.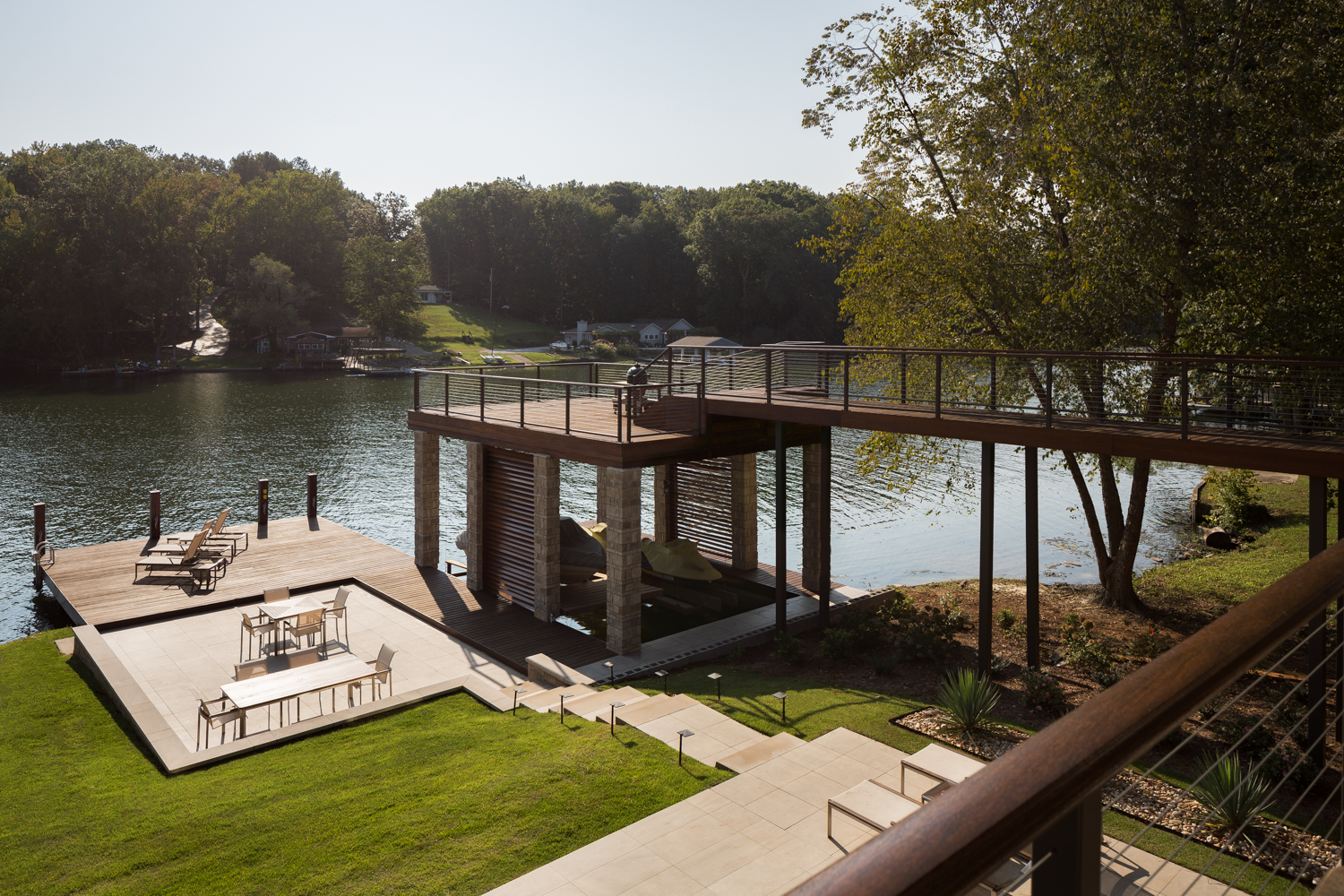 This Alabama home sits on the Tennessee River, "a great little slice of heaven," says Architect Phil Kean.
"This design was totally inspired by the site," says Architect Phil Kean of Phil Kean Designs.
Kean sited the house as close to the water as possible, respecting the neighbors views, and angled it to take advantage of viewpoints that broaden as you look left down the river. Doing so allows each room its own view.
"It's like a little piece of art in every room," he said.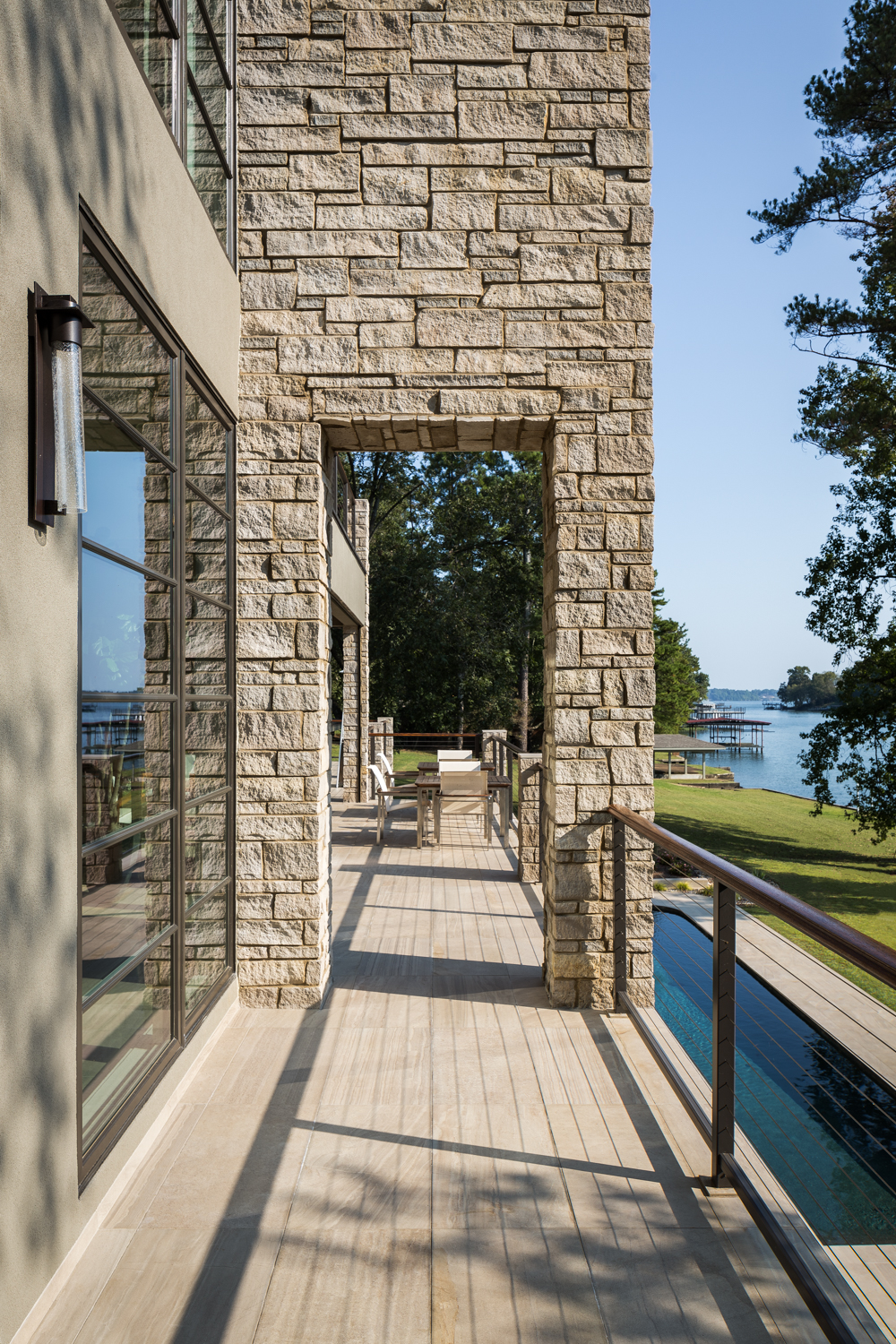 Every room of this Alabama home has a view of the Tennessee river, and Kean says, "The mid level balconies are pretty wonderful." This one is defined by a bisected chimney faced in Indiana limestone veneer.
During the design phase, the homeowner brought in his favorites of his company's portfolio of wood species, which helped direct the choices of the home's other finishes. "It was a partnership with the client, with textures and tones and colors," Kean said. "The homeowners selected the Indiana limestone veneer with their builder, primarily because it accentuated the wood they wanted to use."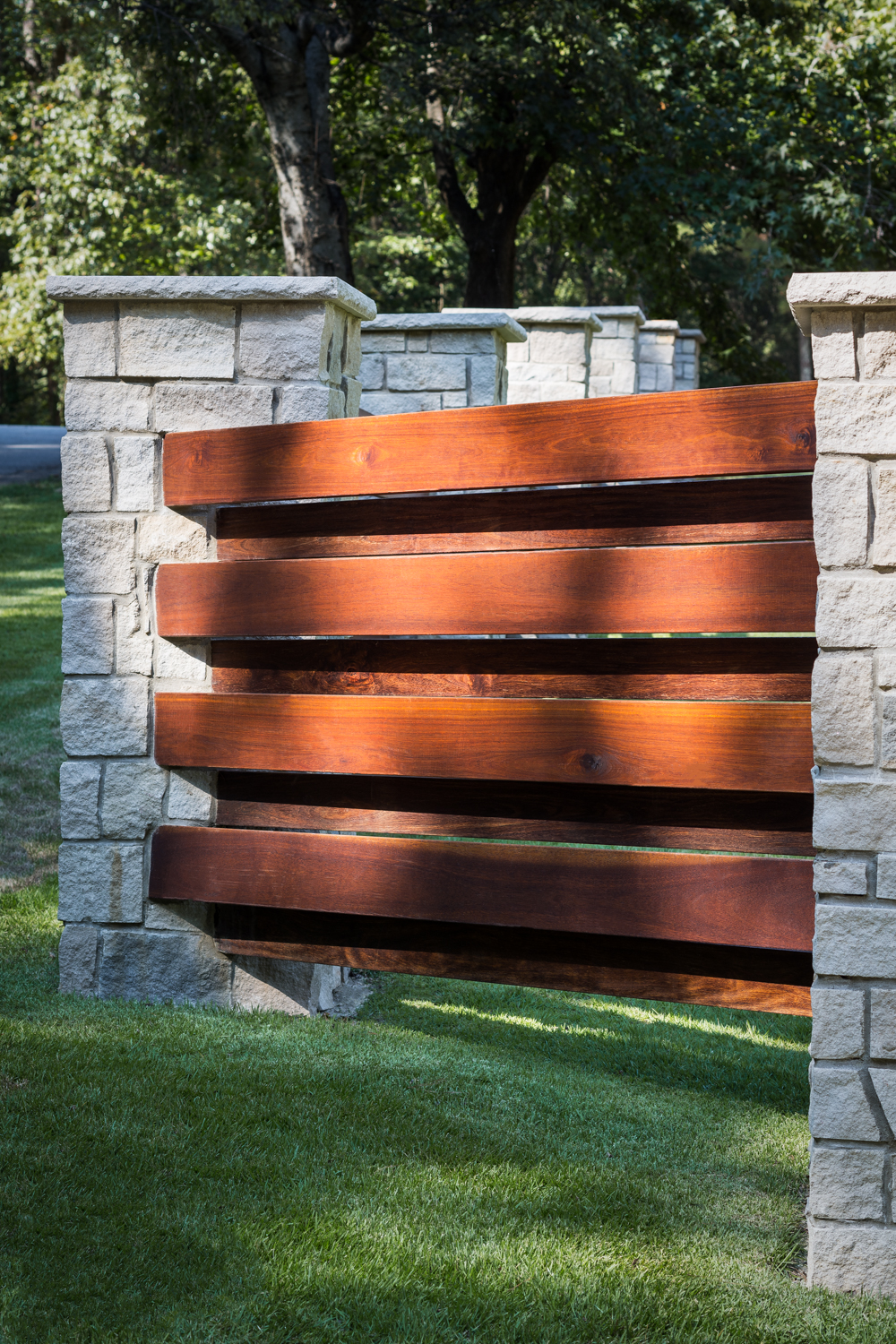 The McKinney's selected a number of tropical hardwoods for their own home including Tatabue, Purpleheart and Greenheart.
McVantage of Guyana provides rough green lumber and finished products from its 1,000,000 acre tract in the Iwokrama Forest in Guyana. See more about each species here.
For the stonework, the team ultimately chose a neutral toned limestone veneer with a versatile character: Berskshire™ in INDIANA LIMESTONE FULL COLOR BLEND™ complemented with a buff grout. The thin veneer is part of Polycor's Estate Veneer Series of thin and full bed veneers.
Kean and builder Rusty Alexander of Alexander Modern homes, who often partner on projects (in fact the two have become good friends over the years), regularly incorporate Indiana limestone veneers and products like landscape steps, treads and pavers into their homes.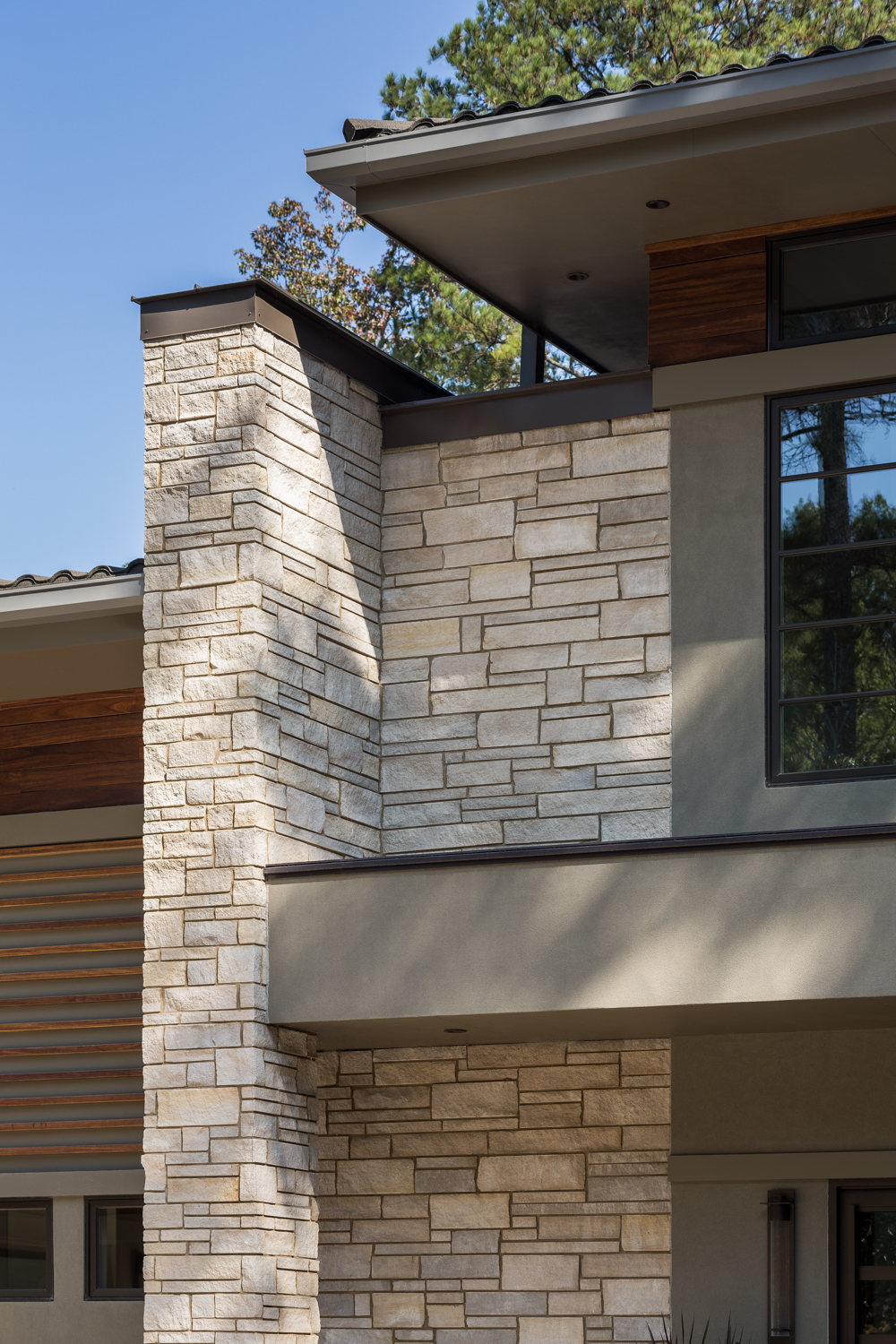 Clean edges and a split face stone finish make this Indiana limestone veneer a versatile cladding for modern and traditional designs that require both classic and pleasing random definition.
"We really like it, it's always a safe, beautiful stone," Kean said. "It's a nice collection of colors. The stones are fairly regular and there is not a ton of movement compared to some stones. With Indiana limestone, you can dress it up or dress it down. Depending on how you finish it, it can be rustic or it can be classically tailored."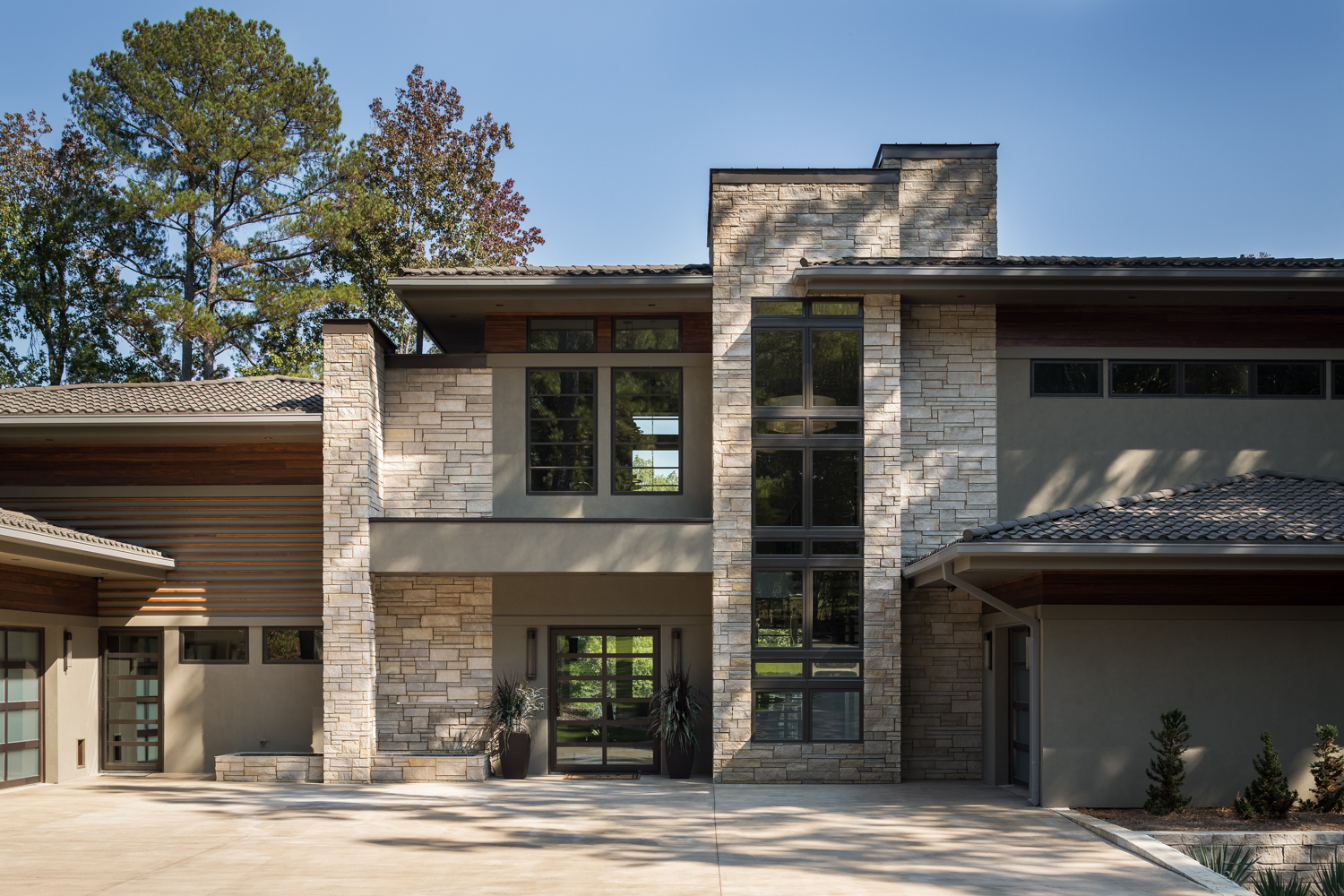 Berkshire veneer is available in thin and full bed options.
Builder Rusty Alexander of Alexander Modern Homes uses Indiana limestone products often on his projects. "We like the history behind the Indiana limestone," he said. "Quite a few historical buildings in the United States have used this quarry for a long time."
Polycor acquired the Indiana Limestone Company and its quarries in 2018. Now the world's largest natural stone quarrier, Polycor owns and operates more than 40 quarries in the US, Canada and France. Supplying stone from quarries it owns allows Polycor to control the supply chain, ensuring quality control, shorter lead times and sustainable practices. This year, Polycor announced it had achieved NSC 37 rating for its Indiana limestone quarries, adding to its roster of certified sites including the Pearl Gray™ marble from Georgia.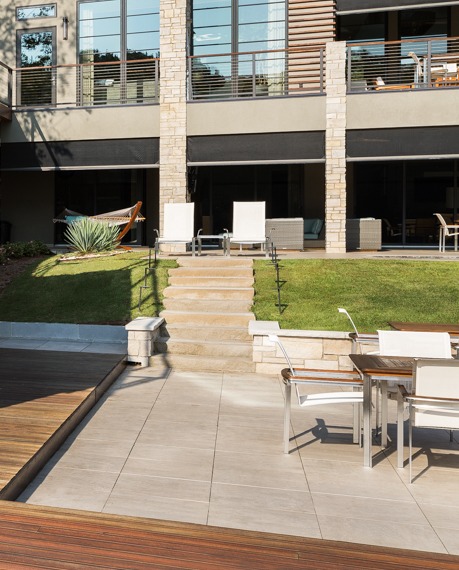 Around the property you can see the Indiana limestone in landscape steps and wall caps.
Similarly, the McKinney's company McVantage of Guyana controls all facets of the logging, milling and finishing processes from timber selection to finished product quality control. It's also FSC® – Chain of Custody certified.
The warm, calming palette of colors and textures of this home is consistent from the driveway to the backyard boat lift where the exotic woods and the Indiana limestone carry right up to the water's edge for a luxurious, unified experience.
But of course the real show stopper here is the Tennessee River. At the top of this family's list was an indoor-outdoor lifestyle. To that end, Kean designed the entire ground floor of the home to open up through sliding walls to a backyard that steps down gracefully in a series of outdoor living areas, each one defined with natural stone elements.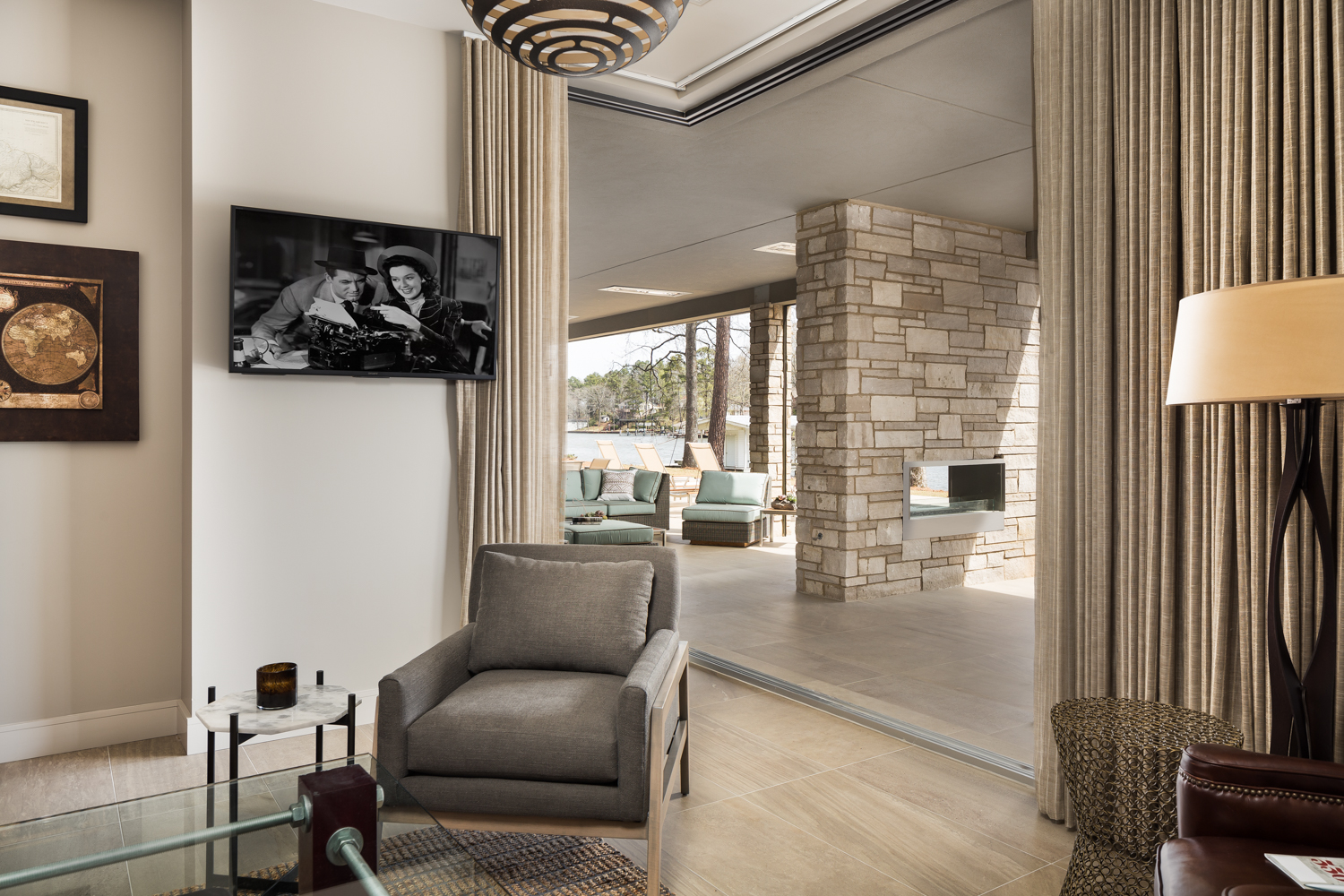 Full wall sliding doors allow this home to open seamlessly to the outdoors and a double sided Indiana limestone fireplace. Interior design: RiverWorks Design Studio. Building: Alexander Modern Homes. Architecture: Phil Kean Designs.
The boat lift is one of the only elements remaining from the original house. Kean continued the look of the house with tropical wood screening and the same Indiana limestone veneer inside and out.
Architect Phil Kean created this walk through fireplace chimney, clad in Berkshire™ Full Color Blend veneer as anchor piece. "I wanted to create a very vertical element against the very horizontal lines of the house."
Kean used soaring three story chimneys as a vertical element to balance the home's long horizontal lines. "It's nice to create a little tension," he said.
Architectural elements aside, this is a family home meant to foster time together and time on the water.
Besides river views from every room, there are multiple balconies for private relaxing and several different patio areas perfect for entertaining or just relaxing after a boat ride. On cooler evenings, the family can retreat to the covered back porch and curl up in front of the outdoor fireplace. Winter to summer, Kean says, it's "a great little slice of heaven."
Is Indiana limestone veneer right for your next project? Download the Estate Series product sheet here.